Knitting and Spinning Retreat 24 - 31 July 2004
Isle of Mull Scotland

Join us for a week of knitting, spinning, day tours to Iona and Fingal's Cave and great friendship on the Isle of Mull, in Scotland. Meet local knitters and spinners and sample some fleece from the black Hebridean sheep, descendants of the ancient Viking flocks.
Creich Hall, Fionnphort
In September 2002, a group of international knitters and spinners met on Inish Mor, one of the Aran Islands, for a week of fibre, fun and friendship. We did day tours to the archaealogical sites, Christian shrines and the smallest island, Inish Eir. We had a knitting workshop with a local knitter and a poetry reading from a visiting American prison psychologist. We had a night out at the local pub, and cooked freshly caught fish, a gift from a local chef. Participants came from the USA, Australia, Ireland, Finland and New Zealand. We had such a good time, I have decided to do it again. Just as St Columba left the Aran Isles for Iona, we can follow, for a holiday in one of the world's magic places.

Once again, this will be a no-frills holiday. I have booked Creich Hall, a hostel near Fionnphort, in south west Mull. This hostel will take 15 people on a first come first served basis. The cost for the accommodation is forty-two pounds sterling, paid in advance whether you stay one night or 7. Alternative accommodation is available at Bed and Breakfasts and hotels in Fionnphort, and you can join the rest of the group activities at the Hall. Hot water for showers is on a coin meter, and all trips, food and any workshops will be on a pay as you go basis. You will need to bring a sleeping bag and towel. The ferry to Iona leaves from Fionnphort , and tours to Fingal's Cave and Staffa are available there. I hear that the theatre on Mull is very good, and I am in the process of making arrangements to visit a local organic farm with a flock of black Hebridean sheep. Suggestions for activities are very welcome.


Canadian knitter and author Debbie New will be joining us as tutor in residence. Debbie will be offering a one-day workshop. Non-residential participants are welcome to join those staying at the hostel for this event. Cost will be in the vicinity of 20 pounds for this workshop, advance bookings essential if you are only coming for this day. We may also have time for skill sharing amongst participants, so with people coming from all over the world, it could be exciting. So far, participants already confirmed have offered to share their knowledge in the following workshops:

- Shetland Lace Knitting
- Natural Dying with Scottish Plants
- Fisherman's Knits

**May 22. There is one residential places left at the hostel. Non-residential participants are welcome to join us on our sight seeing tours, activities at the hostel and the workshop on 27 July, but please let Kerry know in advance.**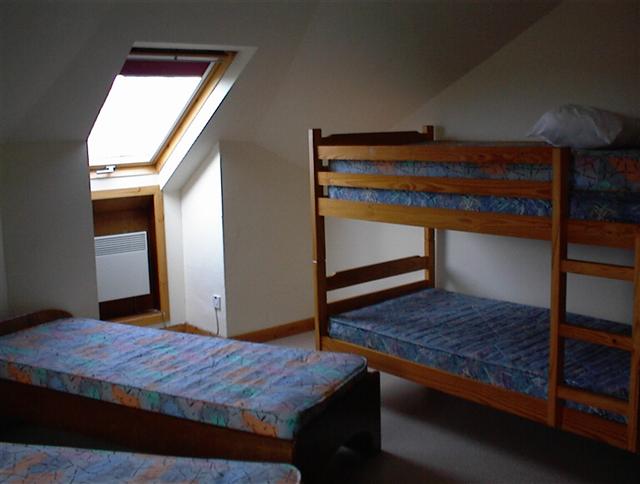 One of the two dormitories, each with bathroom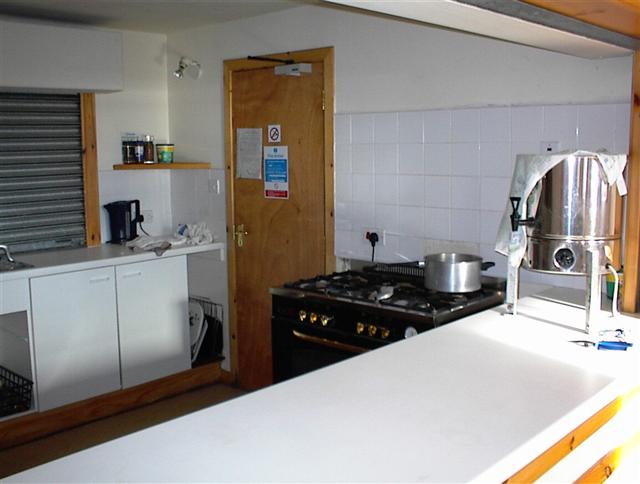 Well equipped kitchen
Getting There
The ferry to Mull leaves the mainland town of Oban on a regular basis, with bus and train links from Glasgow. Organise your journey so that the 496 local bus will meet the ferry and drop you outside the hall in Fionnphort on the Saturday afternoon 24 July.
Useful Links
Accommodation: http://www.isle-of-mull-accommodation.co.uk/#
Scottish coach travel information: http://www.citylink.co.uk/
Public transport on Mull: http://www.travelinescotland.com/Argyll_Bute/BCL_496_I.htm
Ferry timetables: http://www.calmac.co.uk
Information about Mull: http://www.holidaymull.org/
The Arts in Scotland http://www.hi-arts.co.uk/
The Knitting Guild of America http://www.TKGA.com



How to Book
Email Kerry for details on how to book your place and any further information kedwards@trump.net.au

Highlights of the 2002 Aran Retreat
The group met at the Killeany Lodge on Inish Mor. We had the use of the large sitting room with a magnificent view east over Galway Bay. Spinners brought spindles and an electric wheel. A local farmer generously supplied us with two fleeces from the local breed "Galway". The sheep are small, compared to breeds like Merino and Corriedale, and have a soft, springy fleece.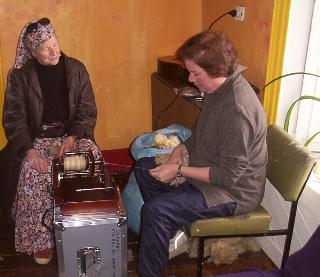 Tess and Kerry with the electric spinning wheel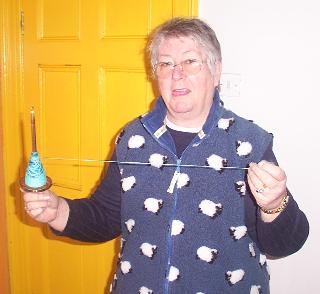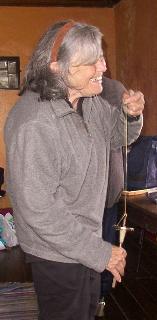 Joy and Patti using spindles
The participants took the regular day tour to the Seven Churches, the Man of Aran Cottage and the fort of Dun Angus. Local history guide, Dara Molloy took us on a tour of the less well known and "magical" sites, including a dolman on a high point of the island. These insights into Celtic mythology and the lives of the early Christians enriched our understanding of the islands.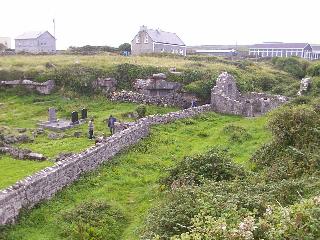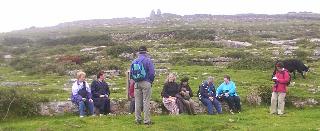 The group enjoying the local scenery

David and Kerry at Dun Angus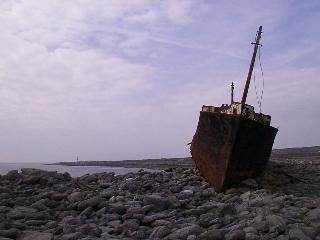 The remains of the Plessey shipwrecked on Inish Eir in 1960. Devotees of "Father Ted" will recognise this scene from the opening credits.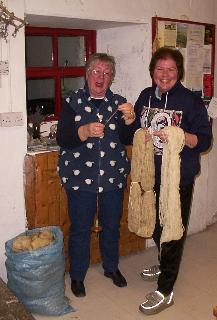 Kerry is holding two skeins of yarn spun during the retreat. The one on the right has been scoured.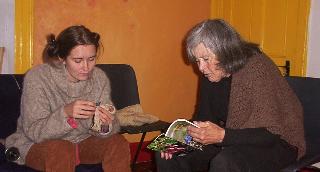 Participants enjoying the knitting workshop.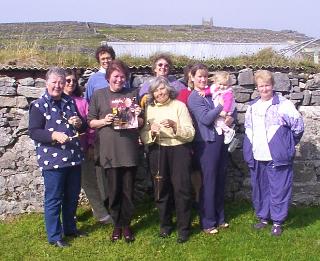 Some members of the group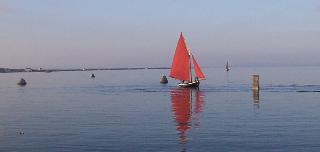 The traditional form of transport, the Galway Hooker, sailing into Killeany Harbour below the hostel.
This page last updated 1st April 2004.