Patchwork

The block above is called "Travelling" and I thought it a very appropriate pattern for me.

When I was a student living in the US in 1972/3, I visited a number of Amish communities in Iowa and Pennsylvania, where I saw beautiful quilts. I was fascinated by their use of colour and intrigued by the conventions surrounding their construction. Patchwork became a hobby then: I can remember making a "Flying Geese" pattern made out of velvet and chintz furnishing fabric, and several hexagon designs. My husband and I made quilts for friends as wedding presents. For our own bed, I made a Dresden Plate and a Log Cabin, the former long worn out and the latter consigned to the children's rumpus room. The children each had their own quilt: Alex had a scrap puff quilt, Christopher an Ohio Star, Phillipa a hexagon flower garden, and for Victoria, I made the animal quilt from the Vogue pattern. This quilt had blocks designed to help children learn about fasteners: the crocodile had a zippered mouth and its tongue popped out; there were lace up sneakers, buttons and bows. It doubled as a play mat.

In 1987, I worked for Adult Education on the Windows into Worlds project. The aim of this project was to make tutors and students more aware of the "Australianess" of the skills they were learning. My subject areas were Upholstery, Needlecrafts and Cake Decorating, all popular Adult Education classes. Australian Patchwork was a fascinating study and put me in touch with Debbie Brearley and Margaret Rolfe, who were doing innovative things with a strong Australian flavour. The craft has many traditions and Australian patchwork is evolving as a distinct branch.

Over recent years, I have found the resources on the web very inspiring for patchworkers and the availability of books has improved. I love the speed piecing techniques - nothing like it for instant gratification.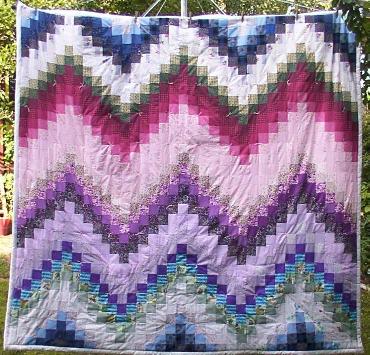 Scrap Bargello, queen size, speed pieced and tied.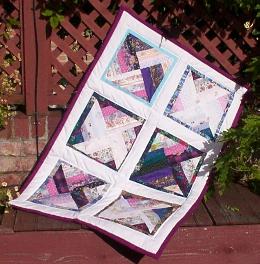 Strip triangles arranged in a pinwheel pattern, cot size, machine quilted.
.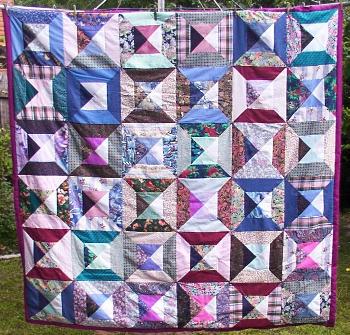 Ventian Tile pattern from Kaffe Fasset's Patchwork book, queen size, tied
Works in Progress include two sampler quilts in pinks and a kaleidescope quilt in autumn tones. I found a sample book of fabric and wall paper at a local recycling shop which cried out to be taken home. I soaked all the glue from the fabric and stacked up, the colours and prints suggest great potential. Something using the "Stack and Whack" principle would be interesting.
I source my fabrics from all over! Many years ago, my mother worked in a soft furnishing shop and brought home sample books and remnants. All the women in my family sewed so there were plenty of scraps. When I travel I bring home fabric as souvenirs, and I scour op shops, recycling centres and of course, the remnant tables at the ever decreasing number of fabric shops. Hobart has a dedicated patchwork shop and their bundles of fat quarters are just beautiful. My fabric stash is measured by the square metre and rivals my yarn and fleece collection.