Getting There
Each participant has the responsibility of booking their flights to Ireland and making their way to the hostel. Closer to the time, I may be able to put people in touch with others, with their permission, so they can meet and travel part of the way together. At the moment I am suggesting that people aim to get the 1.30pm ferry from Rosseveal on Sunday 15 September 2002.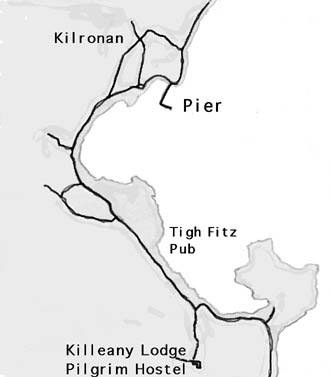 Instructions for Travel to Inis Mór
From Shannon Airport: Enquire on arrival for bus to take you to Galway City. From there
follow instructions below. Travel time: 2 hours approx.
From Dublin Airport : City Link Bus Company will bring you from the Airport to Galway.
Departs Dublin Airport (Coach park) each day at 12.15, 1.15, and 5 pm (Sundays: 12.15
only). Telephone: 00-353-1-6266888. This is the cheapest way. If you are coming by ferry
from Wales or England, you must arrive in Dublin first and then travel by bus to Galway
City.
From Dublin City Centre: City Link also leaves from O'Connell Street in the city centre
(outside Supermac): 9 am, 1pm, 2 pm, 5.30 pm, 5.45 pm, 7.30 pm. It takes 3.5 hours to get
to Galway. Nestor Bus Company leaves from Tara Street Dart Station (close to O'Connell
Street bridge) at: 2 pm, 5.45, 6 pm, 10 pm, more often on Friday. Travel time: almost 4
hours. Buseirann has a big terminal in Dublin with frequent (sometimes hourly) services.
City Link Bus Company: +353-(0)1-6266888
Nestor Bus Company : +353-1-(0)8320094 / 6719822
If you stay in Galway, there are plenty of hostels and B&Bs. Check at the Tourist Office.
From Galway City: To get to Inis Mor from Galway you must catch a bus and then the
ferry. Ferry bus leaves from outside Kinlay House Hostel (off Eyre Square) each day at 9.15
am and 4.15 pm (winter schedule) and 9.15 am, 12.15 pm and 5.15 pm (summer schedule).
The ferry sails at 10.30 am 1.30 pm (summer only) and 5.30 pm (summer 6.30 pm) from
Rossaveal. You buy the bus and boat ticket from the office across the road from Kinlay House.
By Air: Aer Arann operates 4 flights daily from Inverin in Connemara (this includes a bus service from Galway), to the 3 Aran Islands. Flight lasts about 10 minutes. Phone:+353 (0)91 593034 Aer Arann (fly from Inverin): phone +353 (0)91 593034 Island Ferries (boat from Rossaveal): +353 (0)91 568903 Aran Heritage Centre (Inis Mor): +353 (0)99 61355
From the Pier on Inis Mór: When you arrive on Inis Mor, ask a mini-bus driver to take
you to Killeany Lodge in Killeany. He will probably charge you £2.

Killeany Lodge: The bus will bring you to the door. If walking or cycling, after passing Tigh
Fitz Pub, you will come to a sharp turn to the left. At this turn, take the small lane to the
right. Killeany Lodge is the last house at the top of the hill.

Other options: ferry from Doolin in Clare
ferry from Galway City
air service from Rosseveal.